Reference List
Below is a collection of references that could be useful to the customer. If you would like to have your article included, please contact the core facility.
2023
Dolinska M, Cai H, Månsson A, Shen J, Xiao P, BouderLique T, Li X, Leonard E, Chang M, Gao Y, Medina JP; Kondo M, Sandhow L, Johansson AS, Deneberg S, Söderlund S, Jädersten M, Ungerstedt J, Tobiasson M, östman A, Mustjoki S, Stenke L, Le Blanc K, Hellström-Lindberg E, Lehman S, Ekblom M, Olsson-Strömberg U, Sigvardsson M, Qian H. Characterization of the bone marrow niche in patients with chronic myeloid leukemia identifies CXCL14 as a new therapeutic option. Blood (2023) 142 (1): 73–89.
Lindblad C, Neumann S, Kolbeinsdottir S, Zachariadis V, Thelin EP, Enge M, Thams S, Brundin L, Svensson M. Stem cell-derived brainstem mouse astrocytes obtain a neurotoxic phenotype in vitro upon neuroinflammation. J Inflamm (Lond). 2023; 20: 22. doi: 10.1186/s12950-023-00349-8.
Neofytou C, Backlund A, Blomgren K, Hermanson O. Irradiation and lithium treatment alter the global DNA methylation pattern and gene expression underlying a shift from gliogenesis towards neurogenesis in human neural progenitors. Translational Psychiatry. 13, Article number:258. (2023)
Pederiva C, Trevisan DM, Peirasmaki D, Chen S, Savage SA, Larsson O, Ule J, Baranello L, Agostini F, Farnebo M. Control of protein synthesis through mRNA pseudouridylation by dyskerin. Science Advances, 28 Jul 2023 Vol 9, Issue 30 DOI: 10.1126/sciadv.adg1805.
Saher O, Zaghloul EM, Umek T, Hagey DW, Moxafari N, Danielsen MB, Gouda AS, Lundin KE, Jörgensen PT, Wengel J, Smith CIE, Zain R. Chemical Modifications and Design Influence the Potency of Huntingtin Anti-Gene Oligonucleotides. Nucleic Acid Therapeutics vol 33, No.2 https://doi.org/10.1089/nat.2022.0046.
Vaid R, Mendez A, Thombare K, Burgos-Pandero R, Robinot R, Fonseca BF, Gandasi NR, Ringlander J, Hassan Baig M, Dong JJ, Cho JY, Reinius B, Chakrabarti LA, Nystrom K, Mondal T. Global loss of cellular m6A RNA methylation following infection with different SARS-CoV- variants. Genome Res. 2023. 33: 299-313 doi: 10.1101/gr.276407.121.
Zahedi Y, Zeng S, Ekwall K. An essential role for the Ino80 chromatin remodeling complex in regulation of gene expression during cellular quiescence. Chromosome Res (2023) 31:14 https://doi.org/10.1007/s10577-023-09723-x.
2022
Alexeyenko A, Brustugun OT, Zwicky Eide IJ, Gencheva R, Kosibaty Z, Lai Y, de Petris L, Tsakonas G, Grundberg O, Franzen B, Viktorsson K, Lewensohn R, Hydbring R, Ekman S. Plasma RNA profiling unveils transcriptional signatures associated with resistance to osimertinib in EGFR T790M positive non-small cell lung cancer patients. Transl Lung Cancer Res 2022;11(10):2064-2078 | https://dx.doi.org/10.21037/tlcr-22-236.
Liu Z, Zhang L, Toma MA, Li D, Bian X, Pastar I, Tomic-Canic M, Sommar P, Landén NX. Integrative small and long RNA omics analysis of human healing and nonhealing wounds discovers cooperating microRNAs as therapeutic targets. Computational and Systems Biology 2022;11:e80322. DOI: https://doi.org/10.7554/eLife.80322.
Nikesjö F, Sayyab S, Karlsson L, Apostolou E, Rosén A, Hedman K, Lerm M. Defining post-acute COVID-19 syndrome (PACS) by an epigenetic biosignature in peripheral blood mononuclear cells. Clinical Epigenetics. 2022 Dec 14;14(1):172. doi: 10.1186/s13148-022-01398-1.
Oikonomakis I, Brodin D, Hörer TM, Skoog P, Seilitz J, Nilsson KF, Meehan AD, Jansson K. Altered mRNA expression Due to Rectal Perforation in a Porcine Model - A Pilot Study. Anticancer Research 42: 2827-2833 (2022)doi:10.21873/anticanres.15764.
Rykaczewska U, Zhao Q, Saliba-Gustafsson P, Lengquis M, Kronqvist M, Bergman O, Huang Z, Lund K, Waden K, Pons Vila Z, Caidahl K, Skogsberg J, Vukojevic V, Lindeman JHN, Roy J, Hansson GK, Treuter E, Leeper NJ, Eriksson P, Ehrenborg E, Razuvaev A, Hedin U, Matic L. Plaque Evaluation by Ultrasound and Transcriptomics Reveals BCLAF1 as a Regulator of Smooth Muscle Cell Lipid Transdifferentiation in Atherosclerosis. Arterioscler Thromb Vasc Biol. 2022;42:659–676. DOI: 10.1161/ATVBAHA.121.317018.
Zhou K, Han J, Lund H, Rao Boggavarapu N, Lauschke VM, Goto S, Cheng H, Wang Y, Tachi A, Xie C, Zhu K, Sun Y, Osman AM; Liang D, Han W, Gemzell-Danielsson, Betsholtz C, Zhang XM, Zhu C, Enge M, Joseph B, Harris RA, Blomgren K. An overlooked subset of Cx3cr1wt/wt microglia in the Cx3cr1CreER-Eyfp/wt mouse has a repopulation advantage over Cx3cr1CreER-Eyfp/wt microglial depletion. J Neuroinflammation. 2022; 19: 20. doi: 10.1186/s12974-022-02381-6.
2021
Bai X, Narayanan A, Nowak P, Ray S, Neogi U, Sönnerborg A. Whole-Genome Metagenomic Analysis of the Gut Microbiome in HIV-1-Infected Individuals on Antiretroviral Therapy. Front. Microbiol., 25 June 2021 Volume 12 - 2021 | https://doi.org/10.3389/fmicb.2021.667718.
Dernstedt A, Leidig J, Holm A, Kerkman PF, Mjösberg, Ahlm C, Henriksson J, Hultdin M, Forsell MNE. Regulation of Decay Accelerating Factor Primes Human Germinal Center B Cells for Phagocytosis. Frontiers in Immunology. January 2021 volume 11 Article 599647.
Hakim R, Zachariadis V, Sankavaram SR, Han J, Harris RA, Brunsin L, Enge M, Svensson M. Spinal Cord Injury Induces Permanent Reprogramming of Microglial into Disease Associated State Which Contributes to Functional Recovery. Journal of Neuroscience 6 October 2021, 41 (40) 8441-8459; DOI: https://doi.org/10.1523/JNEUROSCI.0860-21.2021.
Karlsson L,Das J, Nilsson M, Tyren A, Pehrson I, Idh N, Sayyab S,Paues J, Ugarte-Gil C, Mendez-Aranda M, Lerm M. A differentila DNA methylome signature of pulmonary immune cells from individuals converting to latent tuberculosis infection. Nature 11, Article number: 19418 (2021.
Söderhäll C, Reinius L, Salmenperä P, Gentile M, Acevedo N, Konradson JR; Nordlund B, Hedlin G, Scheynius A, Myllykangas S, Kere J. High-resolution targeted bisulfite sequencing reveals blood cell type-specific DNA methylation patterns in IL13 and ORMDL3. Clin Epigenet (2021) 13:106 https://doi.org/10.1186/s13148-021-01093-7.
Huang Z, Liang N, Goni S, Damdimopoulos A, Wang C, Ballaire R, Jager J, Niskanen H, Han H, Jakobsson T, et al. Molecular Cell. 2021, Molecular Cell 81, 1–16 https://doi.org/10.1016/j.molcel.2020.12.040.
2020
Appelberg S, Gupta S, Svensson Akusjärvi, Ambikan A T, Mikaeloff F, Saccon E, Vegvari A, Benfeitas R, Sperk M, Ståhlberg M, Krishnan S, Singh K, Penninger JM, Mirazimi A, Neogi U.Dysregulation in Akt/mTOR/HIF-1 signaling identified by proteo transcriptomics of SARS-CoV-2 infected cells. Emerging Microbes and Infections. 2020, VOL 9 https://doi.org/10.1080/22221751.2020.1799723.
Barilla S, Liang N, Mileti E, Ballaire R, Lhomme M, Ponnaiah M, Lemoine S, Soprani A, Gautier J-F, Amri E-Z, Le Goff W, Venteclef N, Treuter E. Loss of G protein pathway suppressor 2 inhuman adipocytes triggers lipid remodeling byupregulating ATP binding cassette subfamily Gmember 1. Mol Metab. 2020 Dec;42:101066.
Evren E, Ringqvist E, Parijat Tripathi K, Sleiers N, Có Rives I, Alisjahbana A, Gao Y, Sarhan D, Halle T, Sorini C, Lepzien R, Marquardt N, Michaëlsson J, Smed-Sörensen A, Botling J, Karlsson MCI, Villablanca EJ, Willinger T. Distinct developmental pathways from blood monocytes generate human lung macrophage diversity.Immunity,2020,ISSN 1074-7613, https://doi.org/10.1016/j.immuni.2020.12.003.
Fernandez-Gonzalo R, Tesch PA, Lundberg TA, Alkner BA, Rullman E, Gustafsson T. Three months of bed rest induce a residual transcriptomic signature resilient to resistance exercise countermeasures. The FASEB Journal. 2020; 34: 7958– 7969. https://doi.org/10.1096/fj.201902976R.
Gonzáles-Rodriguez P, Cheray M, Fullgrabe, Salli M, Engskog-Vlachos P, Keane L, Cunha V, Lupa A, Li W, Ma Q, Dreij K, Rosenfeld MG, Joseph M. The DNA methyltransferase DNMT3A contributes to autophagy long-term memory. Autophagy 2020, Ahead-of-print, 1-19.
Henriksson P, Lentini A, Altmäe S, Brodin D, Müller P, Forsum E, Nestor CE, Löf M. DNA methylation in infants with low and high body fatness. BMC Genomics 21, 769 (2020). https://doi.org/10.1186/s12864-020-07169-7.
Kjellberg A, Diakaki C, Hao X, Anastacio A Rodriguez-Wallberg KA. Hyperbaric oxygen preconditioning of ovarian tissue before cryopreservation modulate genes invilved in follicle activation and anti-apoptotic pathways. Fertility and Sterility. DOI:https://doi.org/10.1016/j.fertnstert.2020.08.1041.
Lauter G, Coschiera A, Yoshihara M, Sugiaman-Trapman D, Ezer S, Sethurathinam S, Katayama S, Kere J, Swoboda P. Differentiation of ciliated human midbrain-derived LUHMES neurons. Journal of Cell Science doi: 10.1242/jcs.249789.
Osman et al.Radiation Triggers a Dynamic Sequence of Transient Microglial Alterations in Juvenile Brain. Cell Reports 31, 107699 June 2, 2020.
2019
Azatyan A, Gallo-Oller G, Diao Y, Selivanova G, Johnsen JI, Zaphiropoulos PG. RITA downregulates Hedgehog-GLI in medulloblastoma and rhabdomyosarcoma via JNK-dependent but p53-independent mechanism, Cancer Letters, Volume 442, 2019, Pages 341-350, ISSN 0304-3835, https://doi.org/10.1016/j.canlet.2018.11.005.
Einarsdottir E, Pekkinen M, Krjutškov K, Katayama S, Kere1 J, Mäkitie O, Viljakainen H. A preliminary transcriptome analysis suggests a transitory effect of vitamin D on mitochondrial function in obese young Finnish subjects. Endocrine Connections, vol 8;5, 559-570 (2019).
Fernandes SJ, Morikawa H, Ewing E, Ruhrmann S, Narayan Joshi R, Lagani V, Karathanasis N, Khademi M, Planell N, Schmidt A, Tsamardinos I, Olsson T, Piehl F, Kockum I, Jagodic M, Tegner J, Gomez-Cabrero D. Nature. (2019)9:11996 https://doi.org/10.1038/s41598-019-48493-7.
Hedlund M, Thorlacius GE, Ivanchenko M, Ottosson V, Kyriakidis N, Lagnefeldt L, Tingström J, Sirsjö A, Bengtsson AA, Aronsson E, Gemzell-Danielsson K, Ronnblom L, Gunnar Bergman3, Espinosa A, Sonesson S-E, Eloranta M-E, Wahren-Herlenius M. Type I IFN system activation in newborns exposed to Ro/SSA and La/SSB autoantibodies in utero. RMD Open 2020;6:e000989. doi: 10.1136/rmdopen-2019-000989.
Huang Z, Liang N, Damdimopoulos A, Fan R,Treuter E. G protein pathway suppressor 2 (GPS2)links inflammation and cholesterol effluxby controlling lipopolysaccharide-induced ATP-binding cassette transporterA1 expression in macrophages. FASEB J. 33, 1631–1643 (2019).
Li D, Kular L, Vij M, Herter EK, Li X, Wang A, Chu T, Toma M-A, Zhang L, Liapi E, Mota A, Blomqvist L, Gallais Sérézala I, Rollman O, Wikstrom JD, Bienko M, Berglund D, Ståhle M, Sommar P, Jagodic M, Landen NX. Human skin long noncoding RNA WAKMAR1 regulateswound healing by enhancing keratinocyte migration. PNAS,May 7, 2019 vol. 116 no. 19 9443–9452.
Liang, N., Damdimopoulos, A., Goni, S. et al. Hepatocyte-specific loss of GPS2 in mice reduces non-alcoholic steatohepatitis via activation of PPARa. Nat Commun 10, 1684 (2019).https://doi.org/10.1038/s41467-019-09524-z.
Oya E, Durand-Dubief M, Cohen A, Maksimov V, Schurra C, Nakayama J-i, Weisman R, Arcangioli B, Ekwall K. Leo1 is essential for the dynamic regulation of heterochromatin and gene expression during cellular quiescence. Epigenetics & Chromatin volume 12, Article number: 45 (2019).
Sola-Carvajal A, Revęchon G, Helgadottir HT, Whisenant D, Hagblom R, Döhla J, Katajisto P, Brodin D, Fagerström-Billai F, Viceconte N, Eriksson M. Accumulation of Progerin Affects the Symmetry of Cell Division and Is Associated with Impaired Wnt Signaling and the Mislocalization of Nuclear Envelope Proteins. Proteins. J Invest Dermatol. 2019 Nov;139(11):2272-2280.e12. doi: 10.1016/j.jid.2019.05.005. Epub 2019 May 23. PMID: 31128203.
2018
Arvidsson G, Henriksson J, Sander B, Wright AP. Mixed-species RNAseq analysis of human lymphoma cells adhering to mouse stromal cells identifies a core gene set that is also differentially expressed in the lymph node microenvironment of mantle cell lymphoma and chronic lymphocytic leukemia patients. Haematologica. 2018 Apr; 103(4): 666–678.
Chamorro CI, Zeiai S, Reinfeldt Engberg G, Brodin D, Lundin J, Nordenskjöld A, Fossum M.Study on genetic stability in human urothelial cells in vitro. J Tissue Eng Regen Med. 2018 Feb;12(2):e720-e726. doi: 10.1002/term.2354. Epub 2017 Apr 3.
De Stasio EA, Mueller KP, Bauer RJ, Hurlburt AJ, Bice SA, Scholtz SL, Phirke P, Sugiaman-Trapman D, Stinson LA, Olson HB, Vogel SL, Ek-Vazquez Z, Esemen Y,Korzynski J, Wolfe K, Arbuckle BN, Zhang H, Lombard-Knapp G, Piasecki BP, Swoboda P. An Expanded Role for the RFX Transcription Factor DAF-19, with Dual Functions in Ciliated and Non-ciliated Neurons. Genetics. 2018 Jan 3. pii:genetics.300571.2017. doi: 10.1534/genetics.117.300571. [Epub ahead of print]PubMed PMID: 29301909.
Heshmati Y, Türköz G, Harisankar A, Kharazi S, Boström, Kamali Dolatabadi E, Krstic A, Chang D, Månsson R, Altun M, Qian H, Walfridsson J. The chromatin-remodeling factor CHD4 is required for maintenance of childhood acute myeloid leukemia. Haematologica 2018;103(7):1169-1181; https://doi.org/10.3324/haematol.2017.183970.
Isaksson HS, Farkas SA, Müller P, Gustafsson D, Nilsson TK. Whole genome microarray expression analysis in blood identifies pathways linked to signs and symptoms of a patient with hypercalprotectinaemia and hyperzincaemia. Clin Exp Immunol. 2018 Feb;191(2):240-251. doi: 10.1111/cei.13064. Epub 2017 Nov 3. PubMed PMID: 28984903; PubMed Central PMCID: PMC5758378.
Kular L, Liu Y, Ruhrmann S, Zheleznyakova G, Marabita F, Gomez-Cabrero D, James T, Ewing E, Lindén M, Górnikiewicz B, Aeinehband S, Stridh P, Link J, Andlauer TFM, Gasperi C, Wiendl H, Zipp F, Gold R, Tackenberg B, Weber F, Hemmer B, Strauch K, Heilmann-Heimbach S, Rawal R, Schminke U, Schmidt CO, Kacprowski T, Franke A, Laudes M, Dilthey AT, Celius EG, Sřndergaard HB, Tegnér J, Harbo HF, Oturai AB, Olafsson S, Eggertsson HP, Halldorsson BV, Hjaltason H, Olafsson E, Jonsdottir I, Stefansson K, Olsson T, Piehl F, Ekström TJ, Kockum I, Feinberg AP, Jagodic M.DNA methylation as a mediator of HLA-DRB1*15:01 and a protective variant in multiple sclerosis. Nat Commun. 2018 Jun 19;9(1):2397. doi: 10.1038/s41467-018-04732-5.
Lund H, Pieber M, Parsa R, Han J, Grommisch D, Ewing E, Kular L, Needhamsen M, Espinosa A, Nilsson E, överby AK, Butovsky O, Jagodic M, Zhang X-M, Harris RA. Competitive repopulation of an empty microglialniche yields functionally distinct subsets ofmicroglia-like cells. Nature Communications, 9: 4845https://doi.org/10.1038/s41467-018-07295-7.
Porseryd T, Reyhanian Caspillo N, Volkova K, Elabbas L, Källman T, Dinnétz P, Olsson PE, Porsch-Hällström I.Testis transcriptome alterations in zebrafish (Danio rerio) with reduced fertility due to developmental exposure to 17α-ethinyl estradiol. Gen Comp Endocrinol. 2018 Jun 1;262:44-58. doi: 10.1016/j.ygcen.2018.03.011. Epub 2018 Mar 8.
Teder H, Koel M, Paluoja P, Jatsenko T, Rekker K, Laisk-Podar T, Kukuskina V, Velthut-Meikas A, Fjodorova O, Peters M, Kere J, Salumets A, Palta P, Krjutskov K. TAC-seq: targeted DNA and RNA sequencing for precise biomarker molecule counting. npj Genomic Med 3, 34 (2018). https://doi.org/10.1038/s41525-018-0072-5.
2017
Acosta JR, Joost S, Karlsson K, Ehrlund A, Li X, Aouadi M, Kasper M, Arner P, Rydén M, Laurencikiene J. Single Cell transcriptomics suggest that human adipocyte progenitor cells constitute a homogenous cell population. Stem Cell Res Ther. 2017 Nov 7;8(1):250. doi: 10.1186/s13287-017-0701-4. PubMed PMID:29116032; PubNed Central PMCID: PMC5678572.
Alm PS, de Castro Barbosa T,Barrés R, Krook A, Zierath JR. Grandpaternal-induced transgenerational dietary reprogramming of the unfolded protein response in skeletal muscle. Mol Metab. 2017 May 22;6(7):621-630. doi:10.1016/j.molmet.2017.05.009. eCollection 2017 Juk. PubMed PMID: 28702319; PubMed Central PMCID:PMC5485306.
Asting AG, Iresjö BM, Nilsberth C, Smedh U, Lundholm K. Host knockout of E-prostanoid 2 receptors reduces tumor growth and causes major alterations of gene expression in prostaglandin E2-producing tumors. Oncol Lett. 2017 Jan;13(1):476-482. doi: 10.3892/ol.2016.5448. Epub 2016 Nov 30.
Balasiddaiah A, Davanian H, Aleman S, Pasetto A, Frelin L, Sällberg M, Lohmann V, Koh S, Bertoletti A, Chen M. Hepatitis C Virus-Specific T Cell Receptor mRNA-Engineered Human T Cells: Impact of Antigen Specificity on Functional Properties. J Virol. 2017 Apr 13;91(9). pii:e00010-17. doi: 10.1128/JVI.00010-17. Print 2017 May 1. PubMed PMID: 28228595; PubMed Central PMCID: PMC5391452.
Cervantes-Madrid D, Wettergren Y, Falk P, Lundholm K, Asting AG.DNA alterations in Cd133+ and Cd133- tumour cells enriched from intra-operative human colon tumour biopsies. BMC Cancer. 2017 Mar 27;17(1):219. doi: 10.1186/s12885-017-3206-8.
Chen X, Bisschops MMM, Agarwal NR, Ji B, Shanmugavel KP, Petranovic D.Interplay of Energetics and ER Stress Exacerbates Alzheimer's Amyloid-β (Aβ)Toxicity in Yeast. Front Mol Neurosci. 2017 Jul 27;10:232. doi: 10.3389/fnmol.2017.00232. eCollection 2017. PubMed PMID: 28798664; PubMed Central PMCID: PMC5529408.
Davanian H, Balasiddaiah A, Heymann R, Sundström M, Redenström P,Silfverberg M, Brodin D, Sällberg M, Lindskog S, Kruger Weiner C, Chen M.Ameloblastoma RNA profiling uncovers a distinct non-coding RNA signature. Oncotarget. 2017; 8:4530-4542.doi:10.18632/oncotarget.13889.
Ehrlund A, Acosta JR, Björk C, Hedén P, Douagi I, Arner P, Laurencikiene J. The cell-type specific transcriptome in human adipose tissue and influence of obesity on adipocyte progenitors. Sci Data. 2017 Oct 31;4:170164. doi: 10.1038/sdata.2017.164. PubMed PMID: 29087381; PubMed Central PMCID: PMC5663208.
Engdahl E, Dunn N, Niehusmann P, Wideman S, Wipfler P, Becker AJ, Ekström TJ, Almgren M, Fogdell-Hahn A. Human Herpesvirus 6B Induces Hypomethylation on Chromosome 17p13.3, Correlating with Increased Gene Expression and Virus Integration. J Virol. 2017 May 12;91(11). pii: e02105-16. doi: 10.1128/JVI.02105-16. Print 2017 Jun 1. PubMed PMID: 28298607; PubMed Central PMCID: PMC5432873.
Li X, Li D, Wang A, Chu T, Lohcharoenkal W, Zheng X, Grünler J, Narayanan S, Eliasson S, Herter EK, Wang Y, Ma Y, Ehrström M, Eidsmo L, Kasper M, Pivarcsi A, Sonkoly E, Catrina SB, Ståhle M, Xu Landén N. MicroRNA-132 with Therapeutic Potential in Chronic Wounds. J Invest Dermatol. 2017 Dec;137(12):2630-2638. doi:10.1016/j.jud.2017.08.003. Epub 2017 Aug 12. PubMed PMID: 28807666.
Marabita F, Almgren M, Sjöholm LK, Kular L, Liu Y, James T, Kiss NB, Feinberg AP, Olsson T, Kockum I, Alfredsson L, Ekström TJ, Jagodic M. Smoking induces DNA methylation changes in Multiple Sclerosis patients with exposure-response relationship. Sci Rep. 2017 Nov 6;7(1):14589. doi 10.1038/s41598-017-14788-w. PubMed PMID: 29109506; PubMed Central PMCID: PMC5674007.
Muurinen M, Hannula-Jouppi K, Reinius LE, Söderhäll C, Merid SK, Bergström A, Melén E, Pershagen G, Lipsanen-Nyman M, Greco D, Kere J. Hypomethylation of HOXA4 promoter is common in Silver-Russell syndrome and growth restriction and associates with stature in healthy children. Sci Rep. 2017 Nov 16;7(1):15693. doi: 10.1038/s41598-017-16070-5. PubMed PMID: 29146936; PubMed Central PMCID:PMC5691194.
Needhamsen M, Ewing E, Lund H, Gomez-Cabrero D, Harris RA, Kular L, Jagodic M.Usability of human Infinium MethylationEPIC BeadChip for mouse DNA methylation studies. BMC Bioinformatics. 2017 Nov 15;18(1):486. doi: 10.1186/s12859-017-1870-y. PubMed PMID:29141580; PubMed Central PMCID: PMC5688710.
Porseryd T, Volkova K, Reyhanian Caspillo N, Källman T, Dinnetz P, Porsh Hällström I. Persistent Effects of Developmental Exposure to 17a-Ethinylestradiol on the Zebrafish (Danio rerio) Brain Transcriptome and Behavior. Front Behav Neurosci. 2017 Apr 20;11:69. doi: 10.3389/fnbeh.2017.00069. eCollection 2017. PubMed PMID: 28473760; PubMed Central PMCID: PMC5397488.
Rane L, Rahman S, Magalhaes I, Ambati A, Andersson J, Zumla A, Brighenti S, Maeurer MJ. IL-7d5 protein is expressed in human tissues and induces expression of the oxidized low density lipoprotein receptor 1 (ORL1) in CD14+ monocytes. Int J Infect Dis. 2017 Jun;59:29-36. doi: 10.1016/j.ijid.2017.03.001. Epub 2017 Mar 6. PubMed PMID: 28279736.
Rudqvist N, Spetz J,Schüler E, Parris TZ, Langen B, Helou K,Forssell-Aronsson E. Transcriptional response to 131I exposure of rat thyroid gland. PLoS One. 2017 Feb 21;12(2):e0171797. doi: 10.1371/journal.pone.0171797. eCollection 2017. PubMed PMID: 28222107; PubMed Central PMCID: PMC5319760.
Ruhrmann S, Ewing E, Piket E, Kular L, Cetrulo Lorenzi JC, Fernandes SJ,Morikawa H, Aeinehband S, Sayols-Baixeras S, Aslibekyan S, Absher DM, Arnett DK, Tegner J, Gomez-Cabrero D, Piehl F, Jagodic M. Hypermethylation of MIR21 in CD4+ T cells from patients with relapsing-remitting multiple sclerosis associates with lower miRNA-21 levels and concomitant up-regulation of its target genes. Mult Scler. 2017 Aug 1:1352458517721356. doi: 10.1177/1352458517721356. [Epub ahead of print] PubMed PMID: 28766461.
Tobiasson M, Abdulkadir H,Lennartsson A,Katayama S, Marabita F,De Paepe A,Karimi M,Krjutskov K, Einarsdottir E, Grövdal M, Jansson M, Ben Azenkoud A,Corddedu L, Lehmann S, Ekwall K, Kere J, Hellström-Lindberg E, Ungerstedt J. Comprehensive mapping of the effects of azacitidine on DNA methylation,repressive/permissive histone marks and gene expression in primary cells from patients with MDS and MDS-related disease. Oncotarget. 2017 Apr 25;8(17):28812-28825. doi: 10.18632/oncotarget.15807. PubMed PMID: 28427179; PubMed Central PMCID: PMC5438694.
Zeitelhofer M, Adzemovic MZ, Gomez-Cabrero D, Bergman P, Hochmeister S, N'diaye M, Paulson A, Ruhrmann S, Almgren M, Tegnér JN, Ekström TJ, Guerreiro-Cacais AO, Jagodic M. Functional genomics analysis of vitamin D effects on CD4+ T cells in vivo in experimental autoimmune encephalomyelitis. Proc Natl Acad Sci U S A. 2017 Feb 28;114(9):E1678-E1687. doi: 10.1073/pnas.1615783114. Epub 2017 Feb 14. PubMed PMID: 28196884; PubMed Central PMCID: PMC5338504.
2016
Al-Khanbashi M, Caramuta S, Alajami AM, Al-Haddabi I, Al-Riyami M, Lui WO, Al-Moundhri MS. Tissue and Serum miRNA profile i Locally Advanced Breast Cancer (LABC) in Response to Neo-Adjuvant Chempotherapy (NAC) Treatment. PLos One. 2016 Apr 11;11(4):e0152032. doi:10.1371/journal.pone.0152032. PMID:27064979.
Andrae J, Gouveia L, Gallini R, He L, Fredriksson L, Nilsson I, Johansson BR, Eriksson U, Betsholtz C. A role for PDGF-C/PDGFRalpha signaling in the formation of the meningeal basement membranes surrounding the cerebral cortex. Biol Open. 2016 Apr 15;5(4):461-74. doi:10.1242/bio.017368. PMID 26988758.
Asting AG, Ljungman D, Carén H, Dambrauskas Z, Iresjö BM, Hyltander A, Naredi P, Lundholm K. Alterations in Tumor DNA Are Related to Short Postoperative Survival in Patients Resected for Pancreatic Carcinoma Aimed at Cure. Pancreas. 2016 Jul;45(6):900-7. doi: 10.1097/MPA.0000000000000566.
Cao Y, Risling M, Malm E, Sondén A, Bolling MF, Sköld MK. Cellular High-Energy Cavitation Trauma - Description of a Novel In Vitro Trauma Model in Three Different Cell Types. Front Neurol. 2016 Feb 1;7:10.doi: 10.3389/fneur.2016.00010. PMID:26869990.
Chamorro C, Zeiai S, Reinfeldt Engberg G, Brodin D, Lundin J, Nordenskjöld A, Fossum. Study on genetic instability in human Urothelial cells in vitro. J Tissue Eng Regen Med. 2016 Nov 12. doi: 10.1002/term.2534. PMID:27863217.
Dahlman I,Rydén M, Brodin D, Grallert H, Strawbridge RJ, Arner P. Numerous Genes in Loci Associated With Body Fat Distribution Are Linked to Adipose Function. Diabetes, 2016 Feb;65(2):433-7, doi:10.2337/db15-0828. PMID:26798124.
Eissler N, Mao Y, Brodin D, Reuterswärd P, Andersson Svahn H, Johnsen JI, Kiessling R, Kogner P. Regulation of myeloid cells by activated T cells determines the efficacy of PD-1 blockade. Oncoimmunology 2016 Sep 9;5(12):e1232222. doi: 10.1080/2162402X.2016.1232222. eCollection 2016.
Gerling M, Büller NV, Kirn LM, Joost S, Frings O, Englert B, Bergström Å, Kuiper RV, Blaas L, Wielenga MC, Almer S, Kühl AA, Fredlund E, van den Brink GR, Toftgård R. Stromal Hedgehog signaling is downregulated in colon cancer and its restoration restrains tumour growth. Nat Commun. 2016 Aug 5;7:12321. doi:10.1038/ncomms12321. PMID:27492255.
Iresjö BM, Engström C, Lundholm K.Preoperative overnight parenteral nutrition (TPN) improves skeletal muscle protein metabolism indicated by microarray algorithm analyses in a randomized trial.Physiol Rep, 4 (11), 2016, e12789, doi: 10.14814/phy2.12789.
Krjutskov K, Katayama S, Saare M, Vera-Rodriguez M, Lubenets D, Samuel K, Laisk-Podar T, Teder H, Einarsdottir E, Salumets A, Kere J. Single-cell Transcriptome analysis of endometrial tissue. Hum Reprod. 2016 April;31(4):844-53.doi:10.1093/humrep/dew008 PMID: 26874359.
Körber I, Katayama S, Einarsdottir E, Krjutskov K, Hakala P, Kere J, Lehesjoki AE, Joensuu T.Gene-Expression Profiling Suggests Impaired Signaling via the Interferon Pathway in Cstb-/- Microglia. PLoS One 2016 Jun 29;11(6):e0158195.doi:10.1371/journal.pone.0158195. PMID:27355630.
Lundberg TR, Fernandez-Gonzalo R, Tesch PA, Rullman E, Gustafsson. Aerobic Exercise Augments the Muscle Transcriptome Profile of Subsequent Resistance Excercise. Med Sci Sports Exerc. 2016 May;48(5 Suppl 1):16. doi:10.1249/01.mss.0000485057.65354.28. PMID:27359381.
Luu TT, Ganesan S,Wagner AK, Sarhan D, Meinke S, Garbi N, Hämmerling G,Alici E, Kärre K, Chambers BJ, Höglund P, Kadri N. Independent control of natural killer cell responsiveness and homeostasis at steady-state by CD11c+ dendritic cells.Sci Rep. 2016; 6: 37996. Published online 2016 Dec 1. doi:10.1038/srep37996.
Månsson-Broberg A, Rodin S, Bulatovic I, Ibarra C, Löfling M, Genead R, Wärdell E, Felldin U, Granth C, Alici E, Le Blanc K, Smith CIE, Salasová A, Westgren M, Sundström E, Uhlén P, Arenas E, Sylvén C, Tryggvason K, Corbascio M, Simonsson OE, Österholm C, Grinnemo KH. Wnt/beta-Catenin Stimulation and Laminins Support Cardiovascular Cell Progenitor Expansion from Human Fetal Cardiac Mesenchymal Stromal Cells. Stem Cell Reports. 2016 Apr 12;6(4):607-617. doi: 10.1016/j.stemcr.2016.02.014. Epub 2016 Mar 24. PubMed PMID: 27052314; PubMed Central PMCID: PMC4834052.
Persson J, Steglich B, Smialowska A, Boyd M, Bornholdt J, Andersson R, Schurra C, Arcangioli B, Sandelin A, Nielsen O, Ekwall K. Regulating retrotransposon activity through the use of laternative transcription start sites. EMBO Rep. 2016 May;17(5):753-68. doi:10.15252/embr.201541866. PMID:26902262.
Putnik M, Brodin D, Wojdacz TK,Fagerström-Billai F, Dahlman-Wright K, Wallberg AE. The transcriptional coregulator MAML1 affects DNA methylation and gene expression patterns in human embryonic kidney cells. Mol Biol Rep. 2016 Mar;43(3):141-50. doi:10.1007/s11033-016-3946-6. PMID:26857655.
Roberts TC, Blomberg KEM, Smith CIE, Andaloussi SEL, Wood MJA. mRNA and microRNA transcriptomics analyses in a murine model of dystrophin loss and therapeutic restoration. Genomics Data, Volume 7, March 2016, Pages 88-89.
Willms E, Johansson HJ, Mäger I, Lee Y, Blomberg KE, Sadik M, Alaarg A, Smith CI, Lehtiö J, El Andaloussi S, Wood MJ, Vader P. Cells release subpopulations of exosomes with distinct molecular and biological properties.Sci Rep. 2016 Mar 2;6:22519. doi: 10.1038/srep22519.
2015
Baek JH, Schmidt E, Viceconte N, Strandgren C, Pernold K, Richard TJ, Van Leeuwen FW, Dantuma NP, Damberg P, Hultenby K, Ulfhake B, Mugnaini E, Rozell B, Eriksson M.Expression of progerin in aging mouse brains reveals structural nuclear abnormalities without detectible significant alterations in gene expression, hippocampal stem cells or behavior. Hum Mol Genet. 2015 Mar 1;24(5):1305-21. doi: 10.1093/hmg/ddu541. Epub 2014 Oct 24.
Borbely G, Haldosen LA, Dahlman-Wright K, Zhao C.Induction of USP17 by combining BET and HDAC inhibitors in breast cancer cells. Oncotarget. 2015; 6:33623-33635. doi: 10.18632/oncotarget.5601.
Chamorro CI, Zeiai S, Engberg GR, Brodin D, Nordenskjöld A, Fossum M. A study on proliferation and gene expression in normal human urothelial cells in culture. Tissue Eng Part A. 2015 Feb;21(3-4):510-7. doi: 10.1089/ten.TEA.2014.0175. Epub 2014 Oct 3.
Dahlman I, Sinha I, Gao H, Brodin D, Thorell A, Rydén M, Andersson DP, Henriksson J, Perfilyev A, Ling C, Dahlman-Wright K, Arner P. The fat cell epigenetic signature in post-obese women is characterized by global hypomethylation and differential DNA methylation of adipogenesis genes. International Journal of Obesity volume 39, pages 910–919 (2015).
Peric D, Barragan I, Giraud-Triboult K,Egesipe AL, Meyniel-Schicklin L, Cousin C, Lotteau V,Petit V,Touhami J, Battini JL, Sitbon M, Pinset C, Ingelman-Sundberg M, Laustriat D, Peschanski M.Cytostatic effect of repeated exposure to simvastatin,a mechanism for chronic myotoxicity revealed by the use of mesodermal progenitors derived from human pluripotent stem cells.STEM CELLS, AlphaMed Press, 2015, 33, pp.2936-2948.
Roberts TC, Blomberg KE,Smith CI, El Andaloussi S, Wood MJ. mRNA and microRNA transcriptomics analyses in a murine model of dystrophin loss and therapeutic restoration. Genom Data. 2015 Dec 2;7:88-9. doi:10.1016/j.gdata.2015.11.025. PMID:26981371.
Sjögren RJ, Egan B, Katayama M, Zierath JR, Krook A. Temporal analysis of reciprocal miRNA-mRNA expression patterns predicts regulatory networks during differentiation in human skeletal muscle cells. Physiol Genomics. 2015 Mar;47(3):45-57. doi: 10.1152/physiolgenomics.00037.2014. Epub 2014 Dec 29.
2014
Acevedo N, Reinius LE, Greco D, Gref A, Orsmark-Pietras C, Persson H, Pershagen G, Hedlin G, Melén E, Scheynius A, Kere J, Söderhäll C. Risk of childhood asthma is associated with CpG-site polymorphisms, regional DNA methylation and mRNA levels at the GSDMB/ORMDL3 locus. Hum Mol Genet. 2014 Sep 25. pii: ddu479. [Epub ahead of print].
Arnberg F, Lundberg J, Kenne E, Jaff N, Müller P, Nava S, Kaipe H, Ringdén O, Holmin S. Superselective intra-arterial umbilical cord blood administration to BM in experimental animals.Bone Marrow Transplantation (2014) 49, 1486–1491; doi:10.1038/bmt.2014.190; published online 8 September 2014.
Kåhlin J, Mkrtchian S, Ebberyd A, Hammarstedt-Nordenvall L, Nordlander B, Yoshitake T, Kehr J, Prabhakar N, Poellinger L, Fagerlund MJ, Eriksson LI.The human carotid body releases acetylcholine, ATP and cytokines during hypoxia.Exp Physiol. 2014 Aug;99(8):1089-98. doi: 10.1113/expphysiol.2014.078873. Epub 2014 May 30.
Lim ML, Ooi BN, Jungebluth P, Sjöqvist S, Hultman I, Lemon G, Gustafsson Y, Asmundsson J, Baiguera S, Douagi I, Gilevich I, Popova A, Haag JC, Rodríguez AB, Lim J, Liedén A, Nordenskjöld M, Alici E, Baker D, Unger C, Luedde T, Vassiliev I, Inzunza J, Ahrlund-Richter L, Macchiarini P. Characterization of stem-like cells in mucoepidermoid tracheal paediatric tumor.PLoS One. 2014 Sep 17;9(9):e107712. doi: 10.1371/journal.pone.0107712. eCollection 2014.
Lindberg BG, Oldenvi S, Steiner H. Medium from γ-irradiated Escherichia coli bacteria stimulates a unique immune response in Drosophila cells. Dev Comp Immunol. 2014 Oct;46(2):392-400. doi: 10.1016/j.dci.2014.05.018. Epub 2014 Jun 2.
Meisgen F, Xu Landén N, Wang A, Réthi B, Bouez C, Zuccolo M, Gueniche A, Ståhle M, Sonkoly E, Breton L, Pivarcsi A. MiR-146a negatively regulates TLR2-induced inflammatory responses in keratinocytes.J Invest Dermatol. 2014 Jul;134(7):1931-40. doi: 10.1038/jid.2014.89. Epub 2014 Feb 13.
Prasad P, Rönnerblad M, Arner E, Itoh M, Kawaji H, Lassmann T, Daub CO, Forrest AR, Lennartsson A, Ekwall K; FANTOM consortium. High-throughput transcription profiling identifies putative epigenetic regulators of hematopoiesis.Blood. 2014 Apr 24;123(17):e46-57. doi: 10.1182/blood-2013-02-483537. Epub 2014 Mar 26.
Rönnerblad M, Andersson R, Olofsson T, Douagi I, Karimi M, Lehmann S, Hoof I, de Hoon M, Itoh M, Nagao-Sato S, Kawaji H, Lassmann T, Carninci P, Hayashizaki Y, Forrest AR, Sandelin A, Ekwall K, Arner E, Lennartsson A; FANTOM consortium. Analysis of the DNA methylome and transcriptome in granulopoiesis reveals timed changes and dynamic enhancer methylation.Blood. 2014 Apr 24;123(17):e79-89. doi: 10.1182/blood-2013-02-482893. Epub 2014 Mar 26.
Sadeghi L, Siggens L, Svensson JP, Ekwall K. Centromeric histone H2B monoubiquitination promotes noncoding transcription and chromatin integrity.Nat Struct Mol Biol. 2014 Mar;21(3):236-43. doi: 10.1038/nsmb.2776. Epub 2014 Feb 16.
Sandén C, Järvstråt L, Lennartsson A, Brattås PL, Nilsson B, Gullberg U. The DEK oncoprotein binds to highly and ubiquitously expressed genes with a dual role in their transcriptional regulation. Mol Cancer. 2014 Sep 12;13:215. doi: 10.1186/1476-4598-13-215.
Tillander V, Bjørndal B, Burri L, Bohov P, Skorve J, Berge RK, Alexson SE. Fish oil and krill oil supplementations differentially regulate lipid catabolic and synthetic pathways in mice.Nutr Metab (Lond). 2014 Apr 27;11:20. doi: 10.1186/1743-7075-11-20. eCollection 2014.
Zhao C, Qiao Y, Jonsson P, Wang J, Xu L, Rouhi P, Sinha I, Cao Y, Williams C, Dahlman-Wright K.Genome-wide profiling of AP-1-regulated transcription provides insights into the invasiveness of triple-negative breast cancer. Cancer Res. 2014 Jul 15;74(14):3983-94. doi: 10.1158/0008-5472.CAN-13-3396. Epub 2014 May 1.
Zhu J, Zhao C, Kharman-Biz A, Zhuang T, Jonsson P, Liang N, Williams C, Lin CY, Qiao Y, Zendehdel K, Strömblad S, Treuter E, Dahlman-Wright K.The atypical ubiquitin ligase RNF31 stabilizes estrogen receptor ? and modulates estrogen-stimulated breast cancer cell proliferation. Oncogene. 2014 Aug 21;33(34):4340-51. doi: 10.1038/onc.2013.573. Epub 2014 Jan 20. Erratum in: Oncogene. 2018 Sep 27;:.
2013
Adzemovic MV, Zeitelhofer M, Eriksson U, Olsson T, Nilsson I. Imatinib ameliorates neuroinflammation in a rat model of multiple sclerosis by enhancing blood-brain barrier integrity and by modulating the peripheral immune response.PLoS One. 2013;8(2):e56586. doi: 10.1371/journal.pone.0056586. Epub 2013 Feb 20.
Arczewska KD, Tomazella GG, Lindvall JM, Kassahun H, Maglioni S, Torgovnick A, Henriksson J, Matilainen O, Marquis BJ, Nelson BC, Jaruga P, Babaie E, Holmberg CI, Bürglin TR, Ventura N, Thiede B, Nilsen H. Active transcriptomic and proteomic reprogramming in the C. elegans nucleotide excision repair mutant xpa-1.Nucleic Acids Res. 2013 May 1;41(10):5368-81. doi: 10.1093/nar/gkt225. Epub 2013 Apr 10.
Dantoft W, Davis MM, Lindvall JM, Tang X, Uvell H, Junell A, Beskow A, Engström Y. The Oct1 homolog Nubbin is a repressor of NF-?B-dependent immune gene expression that increases the tolerance to gut microbiota. BMC Biol. 2013 Sep 6;11:99. doi: 10.1186/1741-7007-11-99.
Lans H, Lindvall JM, Thijssen K, Karambelas AE, Cupac D, Fensgård O, Jansen G, Hoeijmakers JH, Nilsen H, Vermeulen W.DNA damage leads to progressive replicative decline but extends the life span of long-lived mutant animals. Cell Death Differ. 2013 Dec;20(12):1709-18. doi: 10.1038/cdd.2013.126. Epub 2013 Sep 6.
Li SC, Essaghir A, Martijn C, Lloyd RV, Demoulin JB, Oberg K, Giandomenico V.Global microRNA profiling of well-differentiated small intestinal neuroendocrine tumors. Mod Pathol. 2013 May;26(5):685-96. doi:10.1038/modpathol.2012.216. Epub 2013 Jan 18.
Marabita F,Almgren M,Lindholm ME, Ruhrmann S, Fagerström-Billai F,Jagodic M, Sundberg JC,Ekström TJ, Teschendorff AE, Tegnér J,Gomez-Cabrero D. An evaluation of analysis pipelines for DNA methylation profiling using the Illumina HumanMethylation450 BeadChip platform.Epigenetics, 8:3, 333-346, DOI: 10.4161/epi.24008.
Norman-Axelsson U, Durand-Dubief M, Prasad P, Ekwall K. DNA topoisomerase III localizes to centromeres and affects centromeric CENP-A levels in fission yeast. PLoS Genet. 2013;9(3):e1003371. doi: 10.1371/journal.pgen.1003371. Epub 2013 Mar 14.
Paredes JA, Zhou X, Höglund S, Karlsson A. Gene expression deregulation in postnatal skeletal muscle of TK2 deficient mice reveals a lower pool of proliferating myogenic progenitor cells. PLoS One. 2013;8(1):e53698. doi: 10.1371/journal.pone.0053698. Epub 2013 Jan 14.
Reinius LE,Gref A, Sääf A, Acevedo N, Joerink M,Kupszyk M, D'Amato M, Bergström A, Melén E, Scheynius A, Dahlén SE, The BIOAIR Study Group, Pershagen G, Söderhäll C, Kere J. DNA Methylation in the Neuropeptide S Receptor 1(NPSR1) Promoter in Relation to Asthma and Environmental Factors.PLoS One. 2013;8(1):e53877.
Sadeghi B, Al-Chaqmaqchi H, Al-Hashmi S, Brodin D, Hassan Z, Abedi-Valugerdi M, Moshfegh A, Hassan M. Early-phase GVHD gene expression profile in target versus non-target tissues: kidney, a possible target? Bone Marrow Transplant. 2013 Feb;48(2):284-93. doi: 10.1038/bmt.2012.120. Epub 2012 Jul 23.
Sarlus H, Wang X, Cedazo-Minguez A, Schultzberg M, Oprica M.Chronic airway-induced allergy in mice modifies gene expression in the brain toward insulin resistance and inflammatory responses. J Neuroinflammation. 2013 Aug 1;10:99. doi: 10.1186/1742-2094-10-99.
Thessen Hedreul M, Möller S, Stridh P, Gupta Y, Gillett A, Daniel Beyeen A, Öckinger J, Flytzani S, Diez M, Olsson T, Jagodic M. Combining genetic mapping with genome-wide expression in experimental autoimmune encephalomyelitis highlights a gene network enriched for T cell functions and candidate genes regulating autoimmunity. Hum Mol Genet. 2013 Dec 15;22(24):4952-66. doi: 10.1093/hmg/ddt343. Epub 2013 Jul 29.
2012
Björk HM,Renner J,Maleki S, Nilsson SFE, Kihlberg J, Folkersen L, Karlsson M, Ebbers T, Eriksson P, Länne T. Stabilizing mutation of CTNNB1/beta-catenin and protein accumulation analyzed in a large series of parathyroid tumors of Swedish patients.PLoS One. 2012;7(12):e5222.
Folkersen L, Persson J, Ekstrand J, Agardh HE, Hansson GK, Gabrielsen A, Hedin U, Paulsson-Berne G. Prediction of ischemic events on the basis of transcriptomic and genomic profiling in patients undergoing carotid endarterectomy. Mol Med. 2012 May 9;18:669-75. doi: 10.2119/molmed.2011.00479.
Nawaz HM, Kylsten P, Hamada N, Yamamoto D, Smith CI, Lindvall JM. Differential evolutionary wiring of the tyrosine kinase Btk. PLoS One. 2012;7(5):e35640. doi: 10.1371/journal.pone.0035640. Epub 2012 May 4.
Reinius LE, Acevedo N, Joerink M, Pershagen G, Dahlén SE, Greco D, Söderhäll C, Scheynius A, Kere J. Differential DNA methylation in purified human blood cells: implications for cell lineage and studies on disease susceptibility.PLoS One. 2012;7(7):e41361. doi: 10.1371/journal.pone.0041361. Epub 2012 Jul 25.
Roberts TC, Blomberg KE, McClorey G, El Andaloussi S, Godfrey C, Betts C, Coursindel T, Gait MJ, Smith CI, Wood MJ. Expression analysis in multiple muscle groups and serum reveals complexity in the microRNA transcriptome of the mdx mouse with implications for therapy. Mol Ther Nucleic Acids. 2012 Aug 14;1:e39. doi: 10.1038/mtna.2012.26.
Sadeghi B, Al-Chaqmaqchi H, Al-Hashmi S, Brodin D, Hassan Z, Abedi-Valugerdi M, Moshfegh H, Hassan M.Early-phase GVHD gene expression profile in target versus non-target tissues: kidney, a possible target? Bone Marrow Transplant. 2012 Jul 23. doi: 10.1038/bmt.2012.120. [Epub ahead of print].
Salagianni M, Galani IE, Lundberg AM, Davos CH, Varela A, Gavriil A, Lyytikäinen LP, Lehtimäki T, Sigala F, Folkersen L, Gorgoulis V, Lenglet S, Montecucco F, Mach F, Hedin U, Hansson GK, Monaco C, Andreakos E. Toll-like receptor 7 protects from atherosclerosis by constraining "inflammatory" macrophage activation. Circulation. 2012 Aug 21;126(8):952-62. doi: 10.1161/CIRCULATIONAHA.111.067678. Epub 2012 Jul 11. PubMed PMID: 22787112.
Selenius M, Hedman M, Brodin D, Gandin V, Rigobello MP, Flygare J, Marzano C, Bindoli A, Brodin O, Björnstedt M, Fernandes AP. Effects of redox modulation by inhibition of thioredoxin reductase on radiosensitivity and gene expression. J Cell Mol Med. 2012 Jul;16(7):1593-605. doi: 10.1111/j.1582-4934.2011.01469.x.
Sulaiman L, Haglund F, Hashemi J, Obara T, Nordenström J, Larsson C, Juhlin CC. Genome-wide and locus specific alterations in CDC73/HRPT2-mutated parathyroid tumors. PLoS One. 2012;7(9):e46325. doi: 10.1371/journal.pone.0046325. Epub 2012 Sep 28.
Xu N, Zhang L, Meisgen F, Harada M, Heilborn J, Homey B, Grandér D, Ståhle M, Sonkoly E, Pivarcsi A. MicroRNA-125b down-regulates matrix metallopeptidase 13 and inhibits cutaneous squamous cell carcinoma cell proliferation, migration, and invasion. J Biol Chem. 2012 Aug 24;287(35):29899-908. doi: 10.1074/jbc.M112.391243. Epub 2012 Jul 10.
2011
Block T, Isaksson HS, Acosta S, Björck M, Brodin D, Nilsson TK. Altered mRNA expression due to acute mesenteric ischaemia in a porcine model. Eur J Vasc Endovasc Surg. 2011 Feb;41(2):281-7. doi: 10.1016/j.ejvs.2010.09.012. Epub 2010 Nov 20.
Deneberg S, Guardiola P, Lennartsson A, Qu Y, Gaidzik V, Blanchet O, Karimi M, Bengtzén S, Nahi H, Uggla B, Tidefelt U, Höglund M, Paul C, Ekwall K, Döhner K, Lehmann S. Prognostic DNA methylation patterns in cytogenetically normal acute myeloid leukemia are predefined by stem cell chromatin marks. Blood. 2011 Nov 17;118(20):5573-82. doi: 10.1182/blood-2011-01-332353. Epub 2011 Sep 29. PubMed PMID: 21960591.
Jiao H, Arner P, Dickson SL, Vidal H, Mejhert N, Henegar C, Taube M, Hansson C, Hinney A, Galan P, Simon C, Silveira A, Benrick A, Jansson JO, Bouloumié A, Langin D, Laville M, Debard C, Axelsson T, Rydén M, Kere J, Dahlman-Wright K, Hamsten A, Clement K, Dahlman I. Genetic association and gene expression analysis identify FGFR1 as a new susceptibility gene for human obesity. J Clin Endocrinol Metab. 2011 Jun;96(6):E962-6. doi: 10.1210/jc.2010-2639. Epub 2011 Mar 23.
Jiao H, Arner P, Hoffstedt J, Brodin D, Dubern B, Czernichow S, van't Hooft F, Axelsson T, Pedersen O, Hansen T, Sřrensen TI, Hebebrand J, Kere J, Dahlman-Wright K, Hamsten A, Clement K, Dahlman I. Genome wide association study identifies KCNMA1 contributing to human obesity. BMC Med Genomics. 2011 Jun 28;4:51. doi: 10.1186/1755-8794-4-51.
L'Episcopo F, Tirolo C, Testa N, Caniglia S, Morale MC, Cossetti C, D'Adamo P, Zardini E, Andreoni L, Ihekwaba AE, Serra PA, Franciotta D, Martino G, Pluchino S, Marchetti B. Reactive astrocytes and Wnt/β-catenin signaling link nigrostriatal injury to repair in 1-methyl-4-phenyl-1,2,3,6-tetrahydropyridine model of Parkinson's disease. Neurobiol Dis. 2011 Feb;41(2):508-27. doi: 10.1016/j.nbd.2010.10.023. Epub 2010 Nov 5.
Lindahl E, Nordquist L, Müller P, El Agha E, Friederich M, Dahlman-Wright K, Palm F, Jörnvall H. Early transcriptional regulation by C-peptide in freshly isolated rat proximal tubular cells. Diabetes Metab Res Rev. 2011 May 26. doi: 10.1002/dmrr.1220. [Epub ahead of print]
Phirke P, Efimenko E, Mohan S, Burghoorn J, Crona F, Bakhoum MW, Trieb M, Schuske K, Jorgensen EM, Piasecki BP, Leroux MR, Swoboda P. Transcriptional profiling of C. elegans DAF-19 uncovers a ciliary base-associated protein and a CDK/CCRK/LF2p-related kinase required for intraflagellar transport. Dev Biol. 2011 Sep 1;357(1):235-47. doi: 10.1016/j.ydbio.2011.06.028. Epub 2011 Jun 27.
Waldholm J, Wang Z, Brodin D, Tyagi A, Yu S, Theopold U, Farrants AK, Visa N. SWI/SNF regulates the alternative processing of a specific subset of pre-mRNAs in Drosophila melanogaster. BMC Mol Biol. 2011 Nov 2;12:46. doi: 10.1186/1471-2199-12-46.
Zhu X, Zhang Y, Bjornsdottir G, Liu Z, Quan A, Costanzo M, Dávila López M, Westholm JO, Ronne H, Boone C, Gustafsson CM, Myers LC. Histone modifications influence mediator interactions with chromatin. Nucleic Acids Res. 2011 Oct;39(19):8342-54. doi: 10.1093/nar/gkr551. Epub 2011 Jul 8.
Zong F, Fthenou E, Mundt F, Szatmári T, Kovalszky I, Szilák L, Brodin D, Tzanakakis G, Hjerpe A, Dobra K.Specific syndecan-1 domains regulate mesenchymal tumor cell adhesion, motility and migration. PLoS One. 2011;6(6):e14816. doi: 10.1371/journal.pone.0014816. Epub 2011 Jun 23.
2010
Algovik M, Kivinen K, Peterson H, Westgren M, Kere J. Genetic evidence of multiple loci in dystocia--difficult labour. BMC Med Genet. 2010 Jun 30;11:105. doi: 10.1186/1471-2350-11-105.
Birgersdotter A, Baumforth KR, Wei W, Murray PG, Sjöberg J, Björkholm M, Porwit A, Ernberg I. Connective tissue growth factor is expressed in malignant cells of Hodgkin lymphoma but not in other mature B-cell lymphomas. Am J ClinPathol. 2010 Feb;133(2):271-80. PubMed PMID: 20093237.
Brynedal B, Wojcik J, Esposito F, Debailleul V, Yaouanq J, Martinelli-Boneschi F, Edan G, Comi G, Hillert J, Abderrahim H. MGAT5 alters the severity of multiple sclerosis. J Neuroimmunol. 2010 Mar 30;220(1-2):120-4. Epub 2010 Feb 1. PubMed PMID: 20117844.
Burgos CM, Uggla AR, Fagerström-Billai F, Eklöf AC, Frenckner B, Nord M. Gene expression analysis in hypoplastic lungs in the nitrofen model of congenital diaphragmatic hernia. J Pediatr Surg. 2010 Jul;45(7):1445-54. PubMed PMID:20638522.
Csöregh Nord L, Sundqvist J, Andersson E, Fried G. Analysis of Oestrogen Regulation of Alpha-, Beta- and Gamma-Secretase Gene and Protein Expression in Cultured Human Neuronal and Glial Cells. Neurodegener Dis. 2010 Jun 4. [Epub ahead of print]
Dahlman I, Mejhert N, Linder K, Agustsson T, Mutch DM, Kulyte A, Isaksson B, Permert J, Petrovic N, Nedergaard J, Sjölin E, Brodin D, Clement K, Dahlman-Wright K, Rydén M, Arner P. Adipose tissue pathways involved in weight loss of cancer cachexia. Br J Cancer. 2010 May 11;102(10):1541-8. Epub 2010 Apr 20. PubMed PMID: 20407445; PubMed Central PMCID:PMC2869165.
Deneberg S, Grövdal M, Karimi M, Jansson M, Nahi H, Corbacioglu A, Gaidzik V, Döhner K, Paul C, Ekström TJ, Hellström-Lindberg E, Lehmann S. Gene-specific and global methylation patterns predict outcome in patients with acute myeloid leukemia. Leukemia. 2010 May;24(5):932-41. Epub 2010 Mar 18. PubMed PMID: 20237504
Durand-Dubief M, Persson J, Norman U, Hartsuiker E, Ekwall K. Topoisomerase I regulates open chromatin and controls gene expression in vivo. EMBO J. 2010 Jul 7;29(13):2126-34. Epub 2010 Jun 4. PubMed PMID: 20526281; PubMed Central PMCID:PMC2905247.
Ekstrand J, Razuvaev A, Folkersen L, Roy J, Hedin U. Tissue factor pathway inhibitor-2 is induced by fluid shear stress in vascular smooth muscle cells and affects cell proliferation and survival. J Vasc Surg. 2010 Jul;52(1):167-75. PubMed PMID: 20537494.
Halle M, Gabrielsen A, Paulsson-Berne G, Gahm C, Agardh HE, Farnebo F, Tornvall P. Sustained inflammation due to nuclear factor-kappa B activation in irradiated human arteries. J Am Coll Cardiol. 2010 Mar 23;55(12):1227-36. PubMed PMID: 20298930.
Khorosjutina O, Wanrooij PH, Walfridsson J, Szilagyi Z, Zhu X, Baraznenok V,Ekwall K, Gustafsson CM. A chromatin remodeling protein is a component of fission yeast mediator. J Biol Chem. 2010 Jul 9. [Epub ahead of print] PubMed PMID:20622008
Khoshnoud R, He Q, Sylván M, Khoshnoud A, Ivarsson M, Fornander T, Bergh J, Frisell J, Rutqvist LE, Skog S. The impact of RNA standardization and heterogeneous gene expression on the results of cDNA array of human breast carcinoma. Int J Mol Med. 2010 May;25(5):735-41. PubMed PMID: 20372817.
Lantermann AB, Straub T, Strålfors A, Yuan GC, Ekwall K, Korber P. Schizosaccharomyces pombe genome-wide nucleosome mapping reveals positioning mechanisms distinct from those of Saccharomyces cerevisiae. Nat Struct Mol Biol. 2010 Feb;17(2):251-7. Epub 2010 Jan 31. PubMed PMID: 20118936.
Mejhert N, Galitzky J, Pettersson AT, Bambace C, Blomqvist L, Bouloumié A, Frayn KN, Dahlman I, Arner P, Rydén M.Mapping of the fibroblast growth factors in human white adipose tissue.J Clin Endocrinol Metab 2010 May;95(5):2451-7 Epub 2010 Mar 12.
Patrakka J, Tryggvason K. Molecular make-up of the glomerular filtration barrier. Biochem Biophys Res Commun. 2010 May 21;396(1):164-9. Review. PubMed PMID: 20494132.
Persson J, Ekwall K. Chd1 remodelers maintain open chromatin and regulate the epigenetics of differentiation. Exp Cell Res. 2010 May 1;316(8):1316-23. Epub 2010 Mar 6. Review. PubMed PMID: 20211173.
Pulkkinen V, Bruce S, Rintahaka J, Hodgson U, Laitinen T, Alenius H, Kinnula VL, Myllärniemi M, Matikainen S, Kere J. ELMOD2, a candidate gene for idiopathic pulmonary fibrosis, regulates antiviral responses. FASEB J. 2010 Apr;24(4):1167-77. doi: 10.1096/fj.09-138545. Epub 2009 Dec 4.
Risling M, Plantman S, Angeria M, Rostami E, Bellander BM, Kirkegaard M, Arborelius U, Davidsson J. Mechanisms of blast induced brain injuries, experimental studies in rats. Neuroimage. 2010 May 21. [Epub ahead of print] PubMed PMID: 20493951.
Thang PH, Ruffin N, Brodin D, Rethi B, Cam PD, Hien NT, Lopalco L, Vivar N, Chiodi F. The role of IL-1beta in reduced IL-7 production by stromal and epithelial cells: a model for impaired T-cell numbers in the gut during HIV-1 infection. J Intern Med. 2010 Aug;268(2):181-93. Epub 2010 Apr 20. PubMed PMID: 20497296
Wang X, Björklund S, Wasik AM, Grandien A, Andersson P, Kimby E, Dahlman-Wright K, Zhao C, Christensson B, Sander B.Gene expression profiling and chromatin immunoprecipitation identify DBN1, SETMAR and HIG2 as direct targets of SOX11 in mantle cell lymphoma. PLoS One. 2010 Nov 22;5(11):e14085. doi: 10.1371/journal.pone.0014085.
Wienecke J, Westerdahl AC, Hultborn H, Kiehn O, Ryge J. Global gene expression analysis of rodent motor neurons following spinal cord injury associates molecular mechanisms with development of postinjury spasticity. J Neurophysiol. 2010 Feb;103(2):761-78. doi: 10.1152/jn.00609.2009. Epub 2009 Nov 25.
Xue-Franzén Y, Johnsson A, Brodin D, Henriksson J, Bürglin TR, Wright AP. Genome-wide characterisation of the Gcn5 histone acetyltransferase in budding yeast during stress adaptation reveals evolutionarily conserved and diverged roles. BMC Genomics. 2010 Mar 25;11:200. doi: 10.1186/1471-2164-11-200.
Zhao C, Gao H, Liu Y, Papoutsi Z, Jaffrey S, Gustafsson JA, Dahlman-Wright K.Genome-wide mapping of estrogen receptor-beta-binding regions reveals extensive cross-talk with transcription factor activator protein-1. Cancer Res. 2010 Jun 15;70(12):5174-83. doi: 10.1158/0008-5472.CAN-09-4407. Epub 2010 May 25.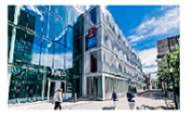 Customer Information:
BEA Price List:

| | | |
| --- | --- | --- |
| BEA Service Fees | | |

Order Forms:

| | | |
| --- | --- | --- |
| BEA Services | | |

Links:
Resources: